Quotes: New entries will be placed on top
Courts are jailing more drivers than burglars. An Evening Standard investigation has revealed that 5,000 more motorists than burglars were sent to prison in one year. Martin Narey, the Government's prisons and probation chief, warned that jails are dealing with too many drivers and are "overrun" with inmates on short sentences. Watchdogs today claimed motorists are being dealt with too harshly by the courts and that alternatives to custody are needed. The figures show that 15,059 drivers were given custodial sentences in 2002 - 2,200 (15%) were for the most serious offences, including causing death by dangerous driving, dangerous driving, and drink-driving that had resulted in injury. Only 10,184 burglars were sent to prison.---This Is London (England). (With more than 1.9 million DUI arrests in America each year we may be next.)
Admitted liar Gov. Bill Richardson said Thursday that House

Minority Whip Joe Thompson of Albuquerque

, arrested on a charge of drunken driving is a "DWI champion" strongly committed to tougher laws, and should be given another chance.

He was charged with drunken driving early Wednesday, less than 24 hours after he attended a ceremony at which Governor Richardson signed into law stronger DWI penalties.
Canadian police should be given broader authority to pull over drivers even when there is no obvious indication of impaired driving, says Mothers Against Drunk Driving.---MADD Canada. (Welcome to the future, America.)
"A suspect who refuses to provide a preliminary breath test to a police officer will have his driver's license destroyed at the scene, suspended immediately, and will have six points added to his or her driving record. Persons convicted of an attempt to commit a drunk driving offense shall receive licensing sanctions and punishment as if the attempt had been completed.---Stuart Dunnings III, prosecutor, Ingham County, Michigan. (Perhaps attempted murder will now be treated as if the murder had been completed, too.)
"Where rights secured by the Constitution are involved, there can be no rule making or legislation which would abrogate them." Miranda vs. Arizona. [The case that gave us our "Miranda" rights.] (An energetic lawyer could sure have a field day challenging the current DUI laws.)
"...police have announced plans to randomly stop people on the streets and search them for weapons. Police say the searches are not a response to any particular incident and are not aimed at finding any particular types of weapons. "These types of proactive approaches mean that we have intelligence-led policing that can deter crime before it happens," said a police official."---Reason.com (Thankfully, this is an Australian story. Can it happen here?)
"I believe that most people would not mind the slight inconvenience of being arrested for a low blood-alcohol level, given the opportunity to prove their innocence..."---Linda Campion, MADD member and founder of the Kathleen A. Campion Foundation. (Arrest is really no big deal.)
"After Missouri's first full year of having .08 BAC, arrests have increased almost 14%. 2/3rds of that increase were from arrests between .08 and .10 BAC. MADD would be cheering except for one small fact: alcohol-related fatalities are still on the rise in Missouri. MADD officials specifically said that .08 would reduce fatalities and be the best solution to the problem of drunk drivers. They are now backtracking as the data coming in directly contradicts their claims."---NMA Newsletter. (The arrest of 5,682 low alcohol drivers who lost their licenses and paid $10,000 in fines and increased insurance premiums didn't saved any lives, but sure raised government funds for the cash strapped "Show Me (The Money) State."
"Drinking and driving should not be a choice," says NY Assemblyman Felix Ortiz (D-Brooklyn). He proposed legislation mandating that every car in the state be equipped with expensive ignition interlock devices by 2008 to prevent every adult from driving after drinking. —despite the fact that it is entirely legal in New York and every other state to drink responsibly before driving.---R.I.D.L website. (The New Mexico House of Representatives already passed the same bill. It awaits action in their Senate.) (BTW, Ortiz helped pass the ban on NY drivers using cell phones after he saw one irresponsible person cause an accident. Next will be eating, talking and tuning the radio.)
"Next week [22 Mar 04] the U.S. Supreme Court will hear a case to decide whether or not all Americans must have identification on them at all times. The case has been brought by a cowboy in Nevada who was asked to show ID while he was leaning against his pickup truck on the side of the road near his ranch. The police officer did not offer any specific reason why he demanded proof of identity. Having committed no crime, Dudley Hiibel, the cowboy, refused -- and was arrested. He was later convicted for "Delaying a Peace Officer." In America, still a free country, citizens should not be required to provide identification papers at any whim of the authorities."---The Washington Times. (The Nevada police are no doubt emboldened by the sobriety checkpoint decision by the Supreme Court.)(UPDATE: Dudley lost, so be prepared to show ID whenever and wherever.)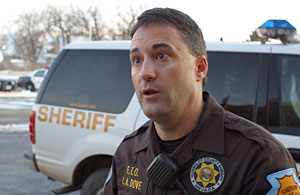 "I'm investigating an investigation."- Humboldt County Deputy Lee Dove
Visit http://papersplease.org/hiibel/facts.html for story and actual police VIDEO.
"If you drink and drive, you will be arrested, you will be prosecuted, and you could very well end up in jail."---Norman Maneta, U.S. Secretary of Transportation, July, 2003. (Someone should tell Norman that there is no federal law or any state laws forbidding drinking and driving.)
"We have a responsibility to help end the illegal activity of drinking and driving." General Motors, July 2003. (Since 1997, GM has donated over $3.5 million to MADD.) (What's in it for GM? Visit www.neoprohibition.com for one opinion.)
"Approximately 17 years ago, the CA legislature created a new statute known as "wet reckless" - reckless driving that is related to alcohol (Vehicle Code Section 23103.5). It is a bizarre fiction that there is no requirement that there is any reckless driving. The legislature's purpose was to encourage plea bargains in close cases - giving defendants a reason to plead guilty and yet giving to government a way to get convictions. It is important to remember that a person who receives this reduction is still viewed as having suffered a "prior" DUI conviction should they receive another DUI arrest in the next seven years. This means you are treated the same by the DA and the judge as if you had pled to a DUI instead of the wet reckless. DMV and insurance companies treat the charges the same also (Two points against your license and increased insurance premiums)."---DUI.com (Expediency and money always trump safety concerns.)
In 1999, New York City enacted a law allowing police to seize on the spot the vehicles of anyone arrested for drunk driving. Cars will not be seized if the Breathalyzer test registers below 0.08 percent. The person will be charged with driving while impaired but their car will not be taken.(The traffic cop as judge and jury certainly speeds up the wheels of justice.)(Note that even if you are under the supposed legal limit of .08, you will still be charged with a crime.)
Later:
"A four-judge panel of the New York Supreme Court Appellate Division ruled that the Nassau County law that allows the seizure of cars belonging to drunk drivers is unconstitutional.
"We find that the law violates due process in that it is vague and does not provide the public with sufficient notice of what offending conduct will result in the forfeiture of a vehicle," the judges ruled.
The ruling, which reverses a previous State Supreme Court decision, means Nassau County might have to withdraw more than 1,200 forfeiture cases currently pending in court.
The ruling also means the cash-strapped county could lose $750,000 a year in proceeds from sales of the vehicles.
County Attorney Lorna Goodman said the ruling would be appealed. "---Newsday, March, 2003. (Secret police directive: "Stop people in expensive cars.")(For a good deal on a used car contact the judge.)
"A federal law commonly known as the Buckley Amendment protects the privacy rights of college students. Without a student's permission, it is illegal even for parents to obtain copies of academic grades, attendance records, medical records, or other educational information. Parents can't even find out if their students have stopped going to classes, are under the care of a school psychiatrist, or are flunking out of school.
But recent legislation has made one exception. The college can, over the objection of adult students, inform their parents if their students have been caught sipping a beer or even been seen in the presence of other students under the age of 21 who are drinking, although not drinking themselves because they serve as designated drivers.---David J. Hanson's website. (Who cares if Junior is flunking out as long as he's not drinking.)
210,646 people have been stopped at sobriety checkpoints so far in 2003 in Pennsylvania. Only 532 or 1/4 of one-percent were found to be impaired.---NHTSA website. (The other 210,000 detainees were no doubt impressed with the efficient use of taxpayer money and manpower.)
"A 20 year old is drinking a beer on the back deck of her home. She is breaking the law because she is drinking under age. Police cite her for under-age drinking. Her penalty is a fine and a suspended license for 3 months. Was she drinking and driving? NO; Did she have car keys in her hand? NO; Did she just utter a comment about getting into her car? NO; Did she have any intention of operating her vehicle? NO Why, then, should her license be suspended and should she get points on her driving record when the incident (in which she WAS breaking the law - I want to make clear) had nothing to do with driving or operating a vehicle?"---Kristen from PA. (And, if you don't have a license, you will be forbidden to get one for the same 3 month period.)
"Over the past ten years, 250,000 Americans have died in accidents caused by drunk driving..."---Ronald Reagan, 1982. (How many laws are based on this lie, excuse me, this mis-statement by the Great Communicator?)
Related quote: "In politics stupidity is not a handicap."---Napoleon Bonaparte
The checkpoint stopped 2,286 cars and created a delay of 40 minutes to an hour. At one point, traffic was backed up two miles. Jackson County Legislators and the Sheriff heard from many angry travelers.---Jackson County Examiner. (Flying in the face of the Supreme Court guidelines-"just like stopping at a red light"-there was no apology nor any reprimand for this illegal roadblock. Prediction: An unsettling look at the future of all roadblocks.)
Liberal police are urging motorists to not drink and drive. If you do, you'll be caught.-October 22, 2003---Station KAKE, Liberal, KS. (You have to wonder whether drinking and driving in Conservative, KS is also illegal.)
" As we all know, in most cases, if a person is arrested, he or she is entitled to Miranda warnings. It's not always so in the drunk driving context, however. In most states, a driver does not gain the benefit of a lawyer until he or she submits to a breathalyzer test, or refuses to consent."---legal-database.com. ("You have nothing to hide, do you?" asked the officer, looking forward to his overtime pay bonus for your court appearance.)
"...according to state records, it's not the first time Detective Minokah Lipps has been charged with driving under the influence...Lipps was honored by Mothers Against Drunk Driving in 2000 for having arrested more than 25 people for DUI. [Lipps] twice refused to take a field sobriety test when she was arrested by Ormond Beach officers on Sept. 14 after a car crash."---Daytona Beach News-Journal. (We are not anti-cop, but we recognize that abuse of authority is a powerful temptation even by those who are less than perfect officers.)
As lawyer Richard Berman recently noted, "Last Christmas in Georgia, 13-year-old honor student Cosmo Zinkow was suspended for two weeks after giving his teacher a gift-wrapped bottle of wine."

Berman also reported: "Last spring, Adam McMakin, 13, of Portland, Oregon, was suspended for a week after he was seen swallowing a swig of Scope mouthwash at school. McMakin explained that he just didn't have anywhere to spit. School administrators stood firm on their zero-tolerance policy against alcohol."---Booze Busting: The New Prohibition by James Bovard, December 1998. (Indoctrination begins with the young, patterned after the Russian practice under Josef Stalin.)
"In Ontario, if the lower of the two readings is 90 mgs % or greater you will be issued a document advising you your driving privileges have been administratively suspended for 90 days. Even those who are acquitted of the charge, carry the 90-day suspension on their records for three years. This is one of the very few incidences in the English Speaking World where the cherished "Innocent until proven guilty" tenet is violated."---www.Canadalawsite.com. This site explains all aspects of law in Canada. (MADD is a strong force in stifling freedom in Canada, too.)
"This is a case that is driven by nothing more than symbolic state action - an insufficient justification for an otherwise unreasonable program of random seizures. Unfortunately, the Court is transfixed by the wrong symbol - the illusory prospect of punishing countless intoxicated motorists - when it should keep its eyes on the road plainly marked by the Constitution."---Supreme Court Justice Paul Stevens describing the 1990 decision to allow sobriety checkpoints. (Amen.)
"Over 80 percent of Americans admit to driving after drinking alcohol."---From a Michigan State Police brochure. (When the definition of "impaired" is reduced to .05 or less, 80 percent of the driving public will, at one time or another, be engaging in a criminal activity and will be subject to arrest.)
"Drunk driving is one of the most frequently committed violent crimes in the United States, killing 16,653 people last year, according to the National Highway Traffic Safety Administration."---Nationwide Insurance Poll press release, Dec, 2001. (No, that's not what the NHTSA said, but why would we expect a major insurance company know the truth?)
"Every 23 seconds, someone is killed by a drunk driver."—Oprah Winfrey, New Years Eve TV program. (That's over 1.3 million per year! MADD never bothered to correct this hysteria-creating figure.)
"Each year 3,000 people in jail on drinking and driving charges kill themselves while incarcerated." Stephen Beck, Big Brother's New Prohibition. (A disturbing figure to some, never addressed by MADD.)
"Did you know that your license can be revoked and car impounded on the spot if your caught driving impaired?" NHTSA, July 2003 radio spot. (Trials are the old-fashion way.)
69% of drunk driving deaths were of the intoxicated driver--MADD Canada reporting U.S. casualties. (No sympathy here and certainly none from MADD.)
DUI conviction penalties: "Bulgaria

– A second conviction results in execution.

EL Salvador – No second chance. Execution by firing squad."--- From '

Move To No Bac: Zero Tolerance for DUI
'

web site.

(Does anyone check their facts anymore?)
"MADD President Millie Webb urged the federal government to establish a $1 billion annual fund dedicated to "increase[ing] the resources for priority traffic safety programs." MADD's top priority: "frequent, highly visible, highly publicized sobriety checkpoints across the country."---ABI website. ("Your papers, please.")
"[To] Affect the outcomes of DWI cases where volunteers who court monitor cases can effectively increase the likelihood of convictions and there by decreasing the likelihood of dismissal."---MADD Brazos Valley Chapter. (Equal justice for all!)
"On average approx. 60% of the BAC values are missing as a result of alcohol tests not being administered."---NHTSA tech report, Jan, 2002. (Later in the same report they admit that they fill in the missing data. Therefore our laws are based on scary drunk driver statistics that are based on assumption.) CLICK HERE for more Government Math: (GUESSING)